Jade Buddha Temple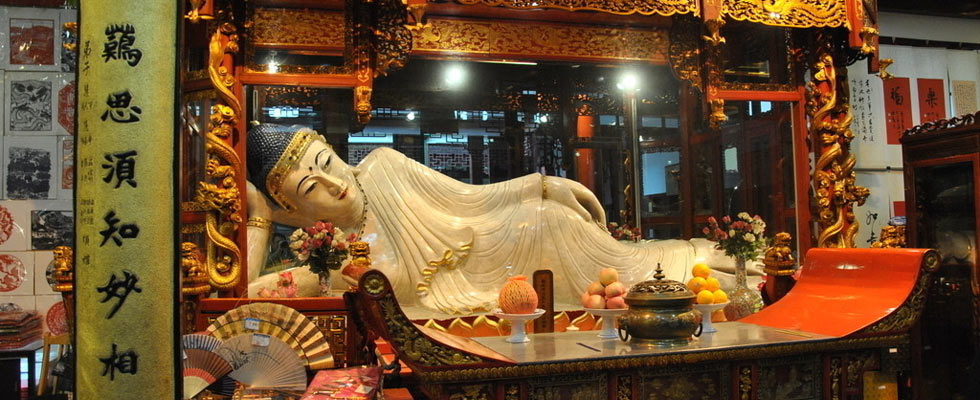 Jade Buddha Temple is located in the north of Shanghai city center, it's built in 1918, the architectural style is like the palace in the Song Dynasty, layout, structure and harmonious, magnificent. On the middle line of the temple, from the entrance to inside it's Heavenly King Hall, Grand Hall, Jade Buddha Chamber(Abbot's Room), on the left and right is Hall of the Reclining Buddha, Kwun Yam Temple, Bronze Buddha Hall and the dining hall. Jade Buddha Temple monks stationed there, even take Shanghai Buddhist Institute is located in the temple, incense constantly all day. Many ancient temple statues, paintings and treasures carved Qing (1870 AD) full "Tripitaka" and other Buddhist total of seven thousand volumes, is relatively complete Tripitaka place. Temple has possessions Circulation and vegetarian Museum, for believers, visitors purchase and tasting.
History of Jade Buddha Temple
In AD 1882, during eighth year of the reign of Emperor Guangxu of Qing Dynasty, when a monk named Hui Gen went on a pilgrimage to Wutai Mountain, Emei Mountain, Tibet and to India, after bowing he went to Burma, under the sponsorship of the local Chinese, he carved five Buddha, and invited back to Mount Putuo. When passing Shanghai, he left two jade statues here, one in sitting posture and the other reclining, that is made ​​in Jiangwanzhen temple worship, called the Jade Buddha Temple.
The oldest Jade Buddha Temple is built in 1900 on the side Wusong Bay station, and it's held by Ben Zhao Master who is the disciple of Hui Gen Master. After the Xinhai Revolution, the temple was destroyed, only the Emerald Buddha survived. The Buddha was dedicated in a villa on Weian Road.
In 1918, the new temple was built, and called Jade Buddha Temple.
Transportation of Jade Buddha Temple

Public Bus: take No.19, No.206 arrive at Jiangning Rd. and Anyuan Rd.