Zhujiajiao Water Town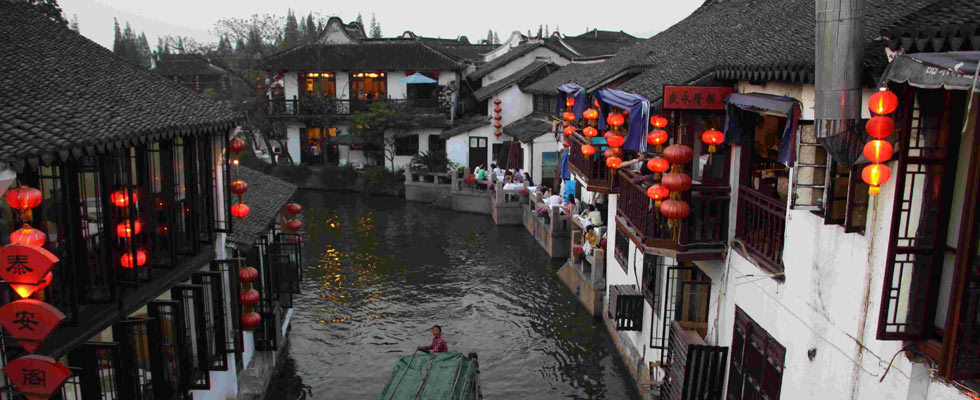 Zhujiajiao Has Long History, Zhujiajiao has formed village 1700 years ago, and has become town in Wanli Period of Ming Dynasty. So far there are the ancients and tools people used 5000 years ago found in Zhujiajiao.
ZHUJIAJIAO IS FLOURISHING Zhujiajiao is famous with rice market, so far there are a lot of flourishing marks : Daqing Post office, Rice and Oil shop, Bank, Electronics factory and old real estate.
ZHUJIAJIAO IS ON THE WATER There are several rivers across the river, nine long streets along the river, thousands of Architectures of Ming and Qing Dynasty stand by the river, 36 stone bridges still across the rivers.
ZHUJIAJIAO

A FAMOUS HISTORICA TWON SOUTH OF THE YANGTZE RIVER
"With a natural scenery of little bridges spanning bubbling streams and there are the original Ming Qing Dynasty streets", Zhujiajiao, where market had already formed during the Song and Yuan Dynasty, was officially set up as a town during Emperor Wanli`s reign of the Ming Dynasty, Another name for Zhujiajio is Pearl Streets Pavilion and has also been given a nice name, the Peal Stream, The town occupies an area of 47 sq.km. It is crisscrossed by rivers and canals, with 9 long streets running along the rivers and thousand of buildings of Ming and Qing Dynasty architecture flanking both sides. There are 36 ancient stone bridges, among these there`s a first 5stone-arched brige in shanghai called "Fangsheng Brige" or "Setting-free Bridge". There are prosperous long streets and zigzagging lanes. Among these , Great North Street boasts "a mile-long road with a thousand shops", KeZhi Garden is representative of the architecture of rich families in south of Yangtze River,the Memorial Hall of Wang Chang one of the "Seven Scholars" of the Qing Dynasty, No 1 Tea House is very famous in south of the Yangtze River. The ancient streets paved with stone slabs, deep and quiet alleyways, arched stone bridges, little creaking boats all express the beauty of water in the ancient town of Zhujiajiao The antiquity of the bridges, the rareness of the streets and the seclusion of the alleyways all present you a scene of "boats sailing on the water and people touring in painting".
The traditional special native produce are rose-flavored fermented bean curd, fried gluten, dark-rice zongzi dumpling, meat wrapped in leaves, roast soybeans, wood carving knit ware, stone carving, roast soy beans, and pork meat zongzi. In autumn, people can have taste of the fresh water crabs form Dianshan Lake.
Transportation of Zhujiajiao Water Town

Public Bus: take Hushang Line, Huzhu high speed line, Zhuxu Line arrive at Zhujiajiao Town, and then walk about 500 meters.